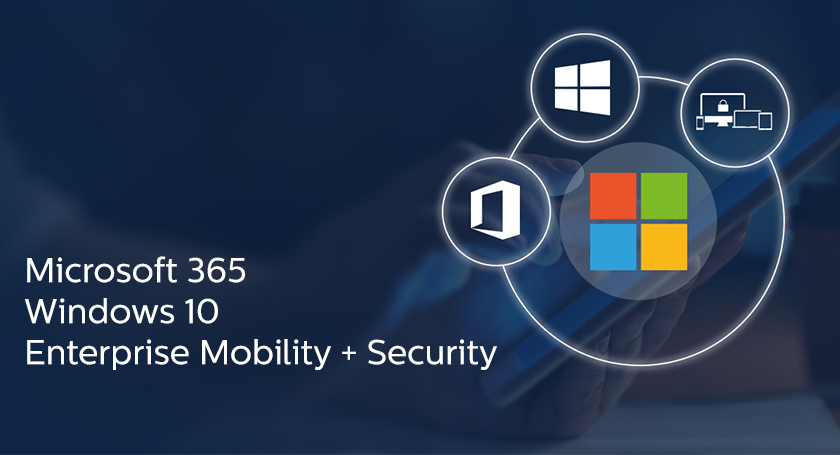 Microsoft 365 is all-encompassing package that includes Office 365, Windows 10 and Enterprise Mobility + Security, the new offering accompanies two arrangements situated at different segments of the market: Microsoft 365 Business and Microsoft 365 Enterprise.
Microsoft 365 Business is designed specifically for small-to-medium sized businesses with up to 300 users. This offering only offers basic security features, but still acts as a great turnkey solution for smaller businesses who want a more integrated and secure way of using Windows 10 and Office 365.
Microsoft 365 Enterprise is, as the title implies, more geared towards larger organizations that want a single, secure platform with which to share and collaborate. It includes strong data security features on top of Windows 10 Pro and Office 365.
Small-to-medium-sized businesses looking to adopt Office 365 would typically need to buy Windows 10 Pro and subscribe to a security service piecemeal. The organization would then also need to make sure all of their users were properly connected and covered under the security subscription.
With MS365, everything is integrated from the start. Not only does this make it less of a hassle from a buying perspective, but it also makes it easier to navigate for end users. By buying into the entire Microsoft ecosystem from the get-to, businesses have a chance to save valuable resources and use them for running their operation.
What Does Each Offer Specifically?
The Microsoft 365 Business offering is fairly straightforward, but Enterprise and Education are comprised of multiple tiers tailored to different use cases. Here's everything you need to know:

Microsoft 365 Business
With a subscription to Microsoft 365 Business, you can run your organization in the cloud and let Microsoft take care of the IT for you. It can manage devices, protect against real-world threats, and provide the latest in business software.
With a monthly or yearly subscription, you get productivity apps, like Word, Excel, and PowerPoint, business-class communication with Outlook, Teams, and Yammer, cloud storage with One Drive and SharePoint, plus business apps that help you reach and work with your customers.
In addition, you get Windows 10 Pro with updates. You get the tools to update, manage, and protect your computers and devices, including the devices your employees bring to work. You can install Office apps on these devices, safeguard their data, and lock them down if they are lost or stolen.
When used together, you can grow your business with the latest cloud software and world-class protection by Microsoft.
Microsoft 365 Business is designed for SMBs with 300 users or less. It's comprised of:
The Office 365 suite
1TB of storage
Device management capabilities via Microsoft Intune
Basic data and app security
For specific product information, click here.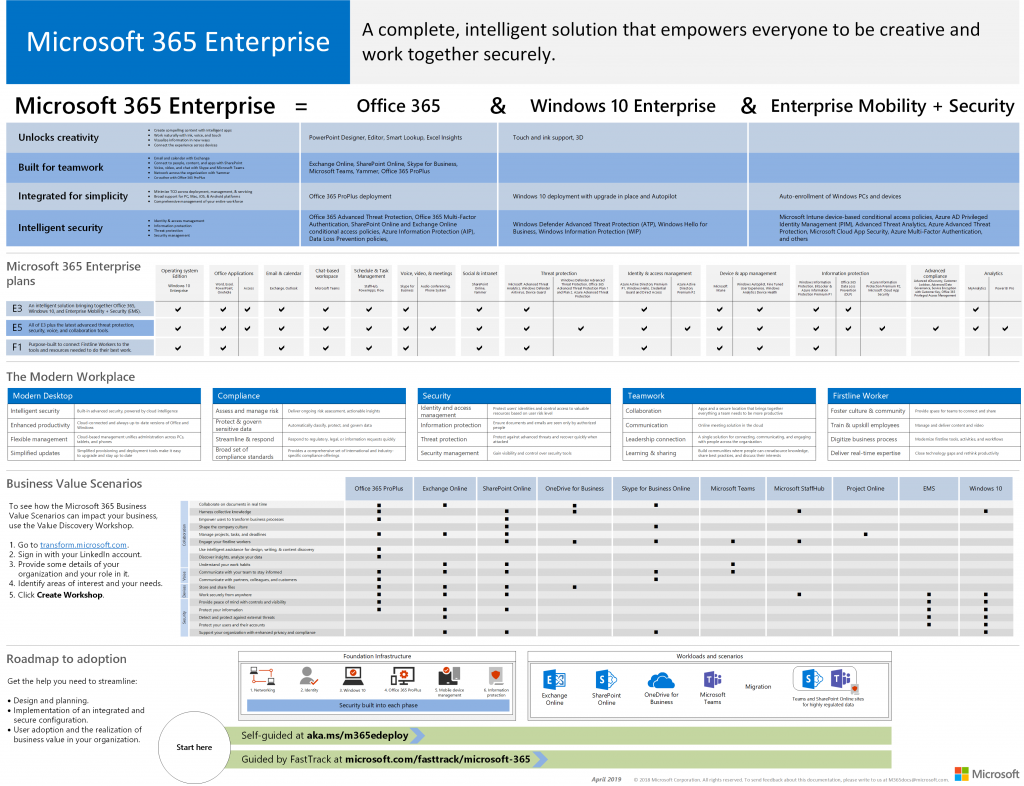 Microsoft 365 Enterprise
Microsoft 365 Enterprise is a complete, intelligent solution that empowers everyone to be creative and work together securely.
Although designed for large organizations, Microsoft 365 Enterprise can also be used for medium-sized and small businesses that need the most advanced security and productivity capabilities. It's broken up into three tiers:
F1 (for Firstline Workers)

Office 365 (minus Access)
Basic threat protection

E3 (Basic Tier)

Office 365
Basic threat protection
Office 365 Data Loss Prevention

E5 (Premium Tier)

Office 365
Advanced threat protection
Office 365 Data Loss Prevention
Audio conferencing/Phone system
Advanced compliance tools
Analytics tools
For specific product information, click here.
Conclusion
All businesses share common needs: increasing productivity, working more efficiently, and safeguarding their data. Before, small businesses needed to wait until they could afford the enterprise features they needed. That's no longer the case with Microsoft Business 365—now, you can take advantage of many features previously only available to corporate customers.
Got questions or want to learn more about Microsoft 365 Business? Get in touch so we can help you decide whether this solution is right for your business.