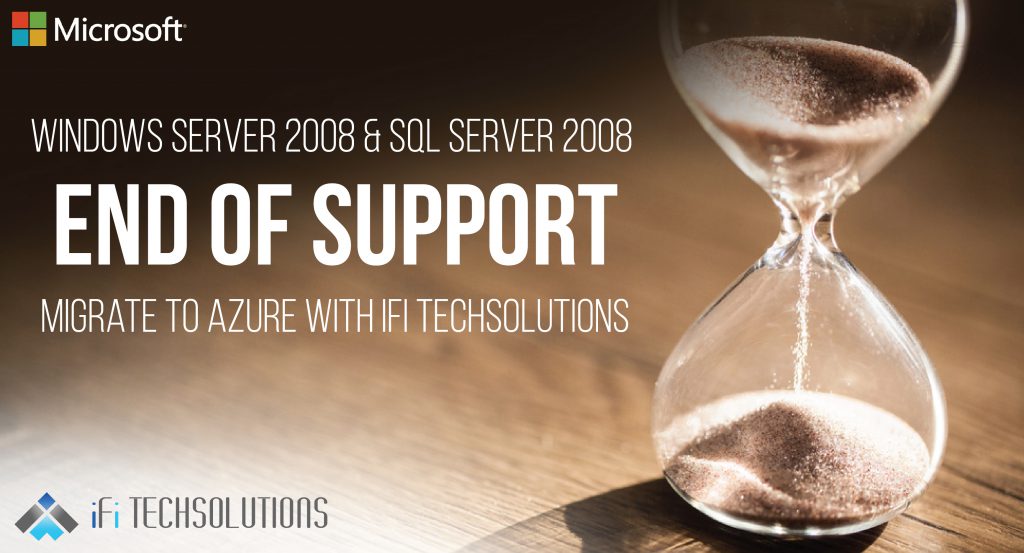 Two major deadlines have been looming for organisations that use older versions of popular Microsoft products. SQL Server 2008 and SQL Server 2008 R2 reach their end of support on July 9. Windows Server 2008 and Windows Server 2008 R2 will hit their deadline six months later, on Jan. 14, 2020. 
What Does the End of Support Mean for Your Company?
Naturally, companies can continue to use SQL Server and Windows Server on-premises precisely the way they have been doing so far. But the security updates for the 2008 version of Server will stop with the end of support.
Ignoring End of Life Is Not an Option
First, and most importantly, doing nothing is not a viable option. After the end of support, Microsoft will no longer provide standard support for these products. Even if the risk seems marginal at first – after all, servers are mostly protected behind a firewall as well – the absence of security updates presents a major vulnerability for companies. Attacks like WannaCry demonstrate clearly that hackers will exploit any opportunity to mount an attack and are able to find creative ways of unleashing a steady stream of new threat scenarios on companies.
What's more, the use of legacy software can also – in certain circumstances – mean in-compliance with individual requirements, which might include placing a current ISO certification at risk.
How Can I Avert the Risks Associated With the End of Support?
Essentially there are three options to deal with the end of support for Windows Server and SQL Server, and the following will introduce you to what they are:
Upgrade the servers to the current version
Migrate the servers to Azure
Buy the "Extended Security Updates"
Solution #1: Upgrade the servers to the current version
Probably the most obvious thing to do is to upgrade the servers from 2008 to the latest – or at least a more recent – version. Besides the expenditure on actual migration, this may also involve incurring costs for a new license. But when buying their current license, many companies picked one with Software Assurance (SA) and therefore the right to receive the most recent version. In this case they would not have to pay extra for licenses.
Companies in this position would be advised to migrate to the latest version, for instance Windows Server 2019. Firstly this prevents them from having to repeat the whole process just a few years later, and secondly, the technological advances from 2008 to 2019 are immense.
Solution #2: Migrate the servers to Azure
Best solution is depending on your business requirements, you must use Microsoft Azure to migrate to a newer setup, such as the SQL Server 2017 and Azure SQL Database Managed Instance pairing. This combo features incredible in-memory performance across workloads, high availability for mission-critical processes, and the latest cybersecurity protections for both data at rest and in motion.
With that settled, the question now becomes: How do you execute your migration so that it does not cause downtime, data loss, and security vulnerabilities?
Again, the answer is simple: Turn to us, your ever-reliable managed IT services provider, for help. Contact us to schedule your consultation. We'll hold your hand every step of the way to ensure that your transition to Azure is smooth and problem-free.
Solution #3: Buy the "Extended Security Updates"
Of course there are scenarios in which this kind of migration is not doable, for instance if software is installed on the server that has certain technical dependencies which need a 2008 version. Microsoft caters to these cases with its paid "Extended Security Updates".
The "Extended Security Updates" will be made available by Microsoft for the coming three years – but, as things stand, are only available to customers with an Enterprise Agreement (EA, EAS or SCE) who purchased their Windows Server or SQL Server with active Software Assurance or as a subscription. What's more, the costs for Extended Security Updates are quite considerable and are quoted by Microsoft at 75% of the price for a fully licensed version of the latest Windows Server, i.e. SQL Server.
Reach out to our Microsoft experts to find the best solution and get a free evaluation for your scenario. CONNECT NOW! or mail on sales@ifi.tech